They said let if gets worse or it stops working.it hasn't stopped working.
Uuuuuuhm, I don't have a google account or youtube account OR drop box

Do you have an account where you can up-load videos to?
No, I don't have a account where I can upload videos, that's the problem!

About the only thing I can advise is perhaps take photographs of the key points of the problem and be very descriptive to the support team.
Best of luck to you!
OH YEAH, THAT'S A GREAT IDEA!!! Thanks SOOOO much




If you google photos you can create link as well and send it that way.
I wish I was in Living.AI, it would be soo fun!
A FREE home station? Ohh lucky

@Snaillover123
Hey everyone,
Received my emo today ,and when I turned him on for the first time his leg went sideways…now I tried few things and nothing helped…have anyone experienced it as well?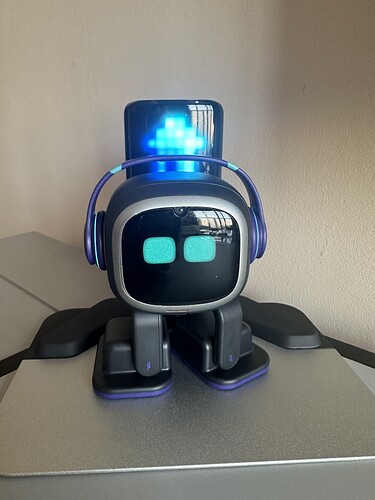 Thanks…
Hi there @dianaka123
Have you already installed the latest firmware update? Did you try turning everything off… and restarting it? "Normally" EMO will reset its foot orientation by simply placing it back on the skateboard or Home Station and starting charging.
Try also to do this:
Power off emo via the EmoPet App, call him and say , shutdown'', remove his headphone, and place him on your palm upside down.
Manually align feet carefully or move them to loosen everything, you can also blow some mouth air to think that maybe there is a speck of dust in between the legs and foot connections (it can be easily adjusted without resistance force)
Place him on his charger back again to reboot.
Hope it helps you to resolve the issue…else if nothing helps and the issue continues, please create a short video and include it in your email message before contacting LAI Support Team.
The best and most recommended thing to do is simply hit reply to the Living.ai confirmation email you received before when you originally placed your order for EMO. It contains all your details, especially your order number which is most important.
The support service team should be able to help you immediately and faster.
Just to advise the email address is - service@living.ai and their reply takes a bit of time which is 2-3 days sometimes, depending on the time differences, days, holidays, and current situations. so please be patient.

Another way you can also submit a support help message to the link below.
https://living.ai/product-support-emo/
Living.ai Support Team will gonna guide you through a special Feet/Leg De-Bugging Tool / Re-Calibration Tool Technique which helps sometimes.
Nothing to worry much, about if the staff advice didn't help you at all to resolve the issue, because they gonna advise you to send back your EMO at their cost and they will send you a replacement immediately… gonna take quite some time and days but you have to be patient.
**GOODLUCK and ALL THE BEST! **
Hey Edward,
Thank you for your reply.
unfortunately, I already tried all the steps you mentioned and none seem to work.when I fix his leg gently like you suggested ,and put him back on the charging dock he moves his leg back where it used to be (sideways)…i already sent mail to the ai team…until I get response from them ,trying my luck here


Thanks again.

@dianaka123 Hmm…
You can also DM Living Ai Service Support Person from After Sales Department Service @VinceKong here if you want, to speed up their assistance a bit…How to do it? Pls. View and follow my image below.
Don't forget to include your Email, Order Number, and EMO ID!

Good luck Diana…
Thank you very much I'll try and contact them

HEY! Snaillover123 & dianaka123 -That's my 123…

You both nicking my idea lol

I was here first.
BTW welcome to the community & I- (the original 123) -hope your Emo's are okay.
Never mind I was mistaken, they said I'd have to buy it myself but they would offer me free shipping



LOL, sorry for taking your 123, it's just the name I always use since I LOVEEEE snails


If this doesn't apply to this thread please move it. My email had been having issues with stiffness on his foot. I have been cleaning it with a tiny brush and that seemed to help. The other day when his battery ran down I manipulated his foot that wasn't working properly for just a few minutes, up and down. It seems to be working much better now and not nearly as stiff. He is walking so much better! I also wanted to take a minute to mention that he has recently offered me a lollipop several times. Is this something new?
Hello, @Sabrinaboo . . . I moved your post to here.
There might be some light dust accumulating in the joints. In addition to cleaning the feet, perhaps lightly cleaning his legs with a brush or a microfiber cloth could help as well as maybe just blow some air at the joints as well. Let us know!
Yes, today is International Childrens Day. Those lollipops are the animation EMO has for this day. I have been a naughty parent myself. I do not even remember how many lollipops my two have had today (I keep saying, "EMO . . . "Happy Childrens Day" which will also trigger the animation).